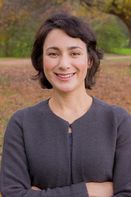 A native Texan and a proud product of public schools, Gina Hinojosa arrived in Austin in 1992 to attend the University of Texas at Austin. With the exception of her years in law school in Washington, D.C., she has called Austin home ever since.
The daughter of legal aid lawyers from Mission, Texas, Gina was steeped in social justice and activism at a young age. Her mother, Crisanta Guerra Lozano, was born in Mexico and immigrated to the United States. She now resides in Austin's Hyde Park neighborhood.
Gina graduated from the University of Texas at Austin with a Plan II Honors/Government degree. She received her law degree from George Washington Law School in 1999 and was licensed that same year.
Gina's first legal job was working for AFSCME in the Office of Legal Counsel in Washington, D.C. There she learned the importance of organized labor in securing a strong middle class and workers' rights. In Austin, Gina joined the law firm of Kator, Parks & Weiser, representing employees who had been discriminated against based on race, gender, age, and disability.
In 2005 Gina worked on the prevailing legal team that sued House Majority Leader Tom Delay for illegal campaign contributions to Republican members of the Texas House.
Once she and her husband started their family, Gina worked part-time for Catholic Charities, Office of Immigrant Concerns; Texas Rural Legal Aid; and the Equal Justice Center where she helped to secure unpaid wages for low-wage workers. She still serves on the Equal Justice Center Board.
Throughout her career, Gina volunteered with Austin Interfaith and was a key leader in the organization's successful efforts to require corporations that receive economic incentives from the City to pay their employees a living wage or higher.
Gina ran for the Austin Independent School District (AISD) School Board primarily because she was frustrated with the District's proposed plan to close neighborhood schools, including the school her son attended, Pease Elementary. She was elected to an at-large position on the Board in November 2012 and was elected Board President by her fellow trustees in January 2015. In the short time that Gina has served on the School Board, she has led successful efforts on workers' rights, advocated and testified at the Legislature in support of increased funding for public education, partnered with the City to secure millions in additional funding for students, and secured the rights and safety of LGBTQ employees and students. Under her leadership, every AISD high school met state accountability standards for the first time, a major step forward in improving academic performance for all students.
Gina lives in the Old Enfield neighborhood with her husband, John Donisi, two sons, Matteo and Pablo, and their dog, Baffi. John is an Austin attorney who served as a special assistant to Governor Ann Richards.